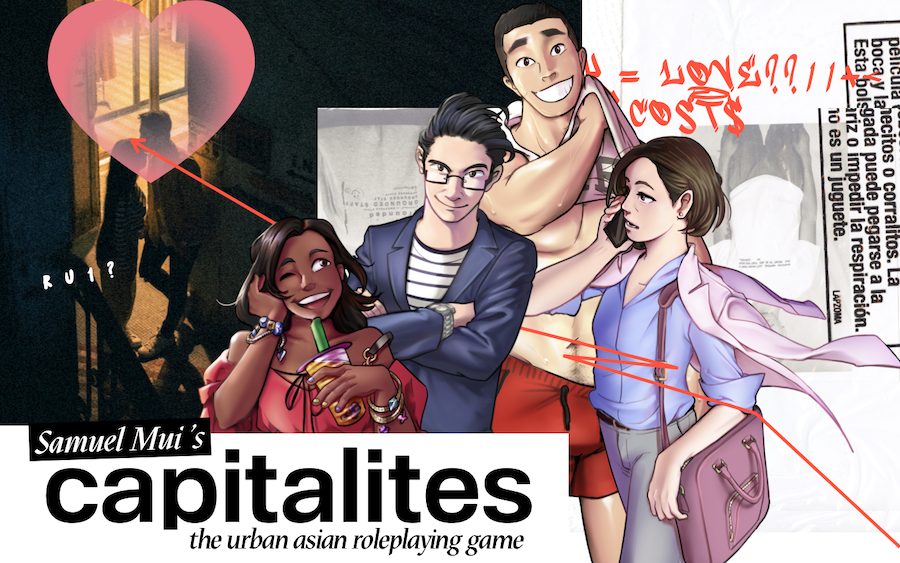 CAPITALITES
A downloadable roleplaying game
CONTENT WARNING
Capitalites contains heavy adult themes, sexual content (both explicit and implied), and sexist/ableist/explicit language.
Game sessions have the potential to explore real-world subjects which some players might find deeply uncomfortable; such as class, fame, alcohol and drug usage, bullying, misogyny, religion, and toxic, abusive, and self-destructive behaviour.
While safety tools are ingrained into the structure of play, the responsibility of keeping the game safe and respectful lies on everyone at the table.

THE STORY
The world of Capitalites is one marked by hipster cafes with exposed brick walls, clout-chasing social media influencers, walk of shames, sweat-soaked nightclubs, and startup offices led by loudmouthed entrepreneurs spitting inspirational quotes.
It's a diverse and chaotic subtle asian world where we (young people) find ourselves trapped between the burdens of tradition and their our own lofty aspirations and ideals... where we fuck and get fucked... where everyone always wants to be someone else... and where we grapple with the choice of becoming boring, responsible adults or staying young and staying foolish.
Fight your insecurities. Pursue your ambitions. Give into the drama.
Struggle between who you are and who you want to be.
Grow the fuck up.
Welcome to the real world baby! Welcome to Capitalites.
THE GAME
Capitalites is a coming-of-age, slice-of-life tabletop roleplaying game about a group of young adults living in the big city and figuring out who they are while trying to get their shit together.
It uses a newbie-friendly, narrative-focused structure of play that focuses on collaboration and conversation - just like a TV Writers' Room - to tell a story full of as much drama, romance, and tragedy as you please. If you've enjoyed games from the Belonging-Outside-Belonging and "Penned to Good Society" design families, you'll enjoy this one as well!
Play the role of one of 22 unique Characters, each with their own fashion styles, insecurities, ambitions, flaws, and strengths (all inspired by real-life friends and enemies - mostly with their permission). Each one explores a different facet and dynamic in the great big chaotic world of young adulthood with their own special blends of spicy drama… whether it's:
The politics of sex and attraction with The Hot Chick, The Player, The Slut, The Himbo, and The Sensitive Man.
The friction between tradition, identity, and progressiveness with The Social Justice Warrior, The Queer, and The Hypocrite.
The cost of fame, ambition, and money with The Crazy Rich Kid, The Hustler, The Actual Celebrity, and The Career Woman.
Dealing with hurt, self-hatred, and escaping a toxic cycle with The Fanatic, The Cynic and The Leftover.
And not knowing who you are or what you want with The 查某 [zha bó͘h].
Also featuring... Guest Playbooks by fellow game designers Aaron Lim (The Abstinent), Alyssa Yeo (The Dilettante), Maria Mison (The Spiritual Escape Artist), and more...
Capitalites also draws heavy inspiration from my own real life and the lives of the people around me as well as adult comedy-dramas such as You're the Worst, Master of None, Bojack Horseman, and Fleabag with a heavy dose of reality shows like Singapore Social, Terrace House, and Bling Empire.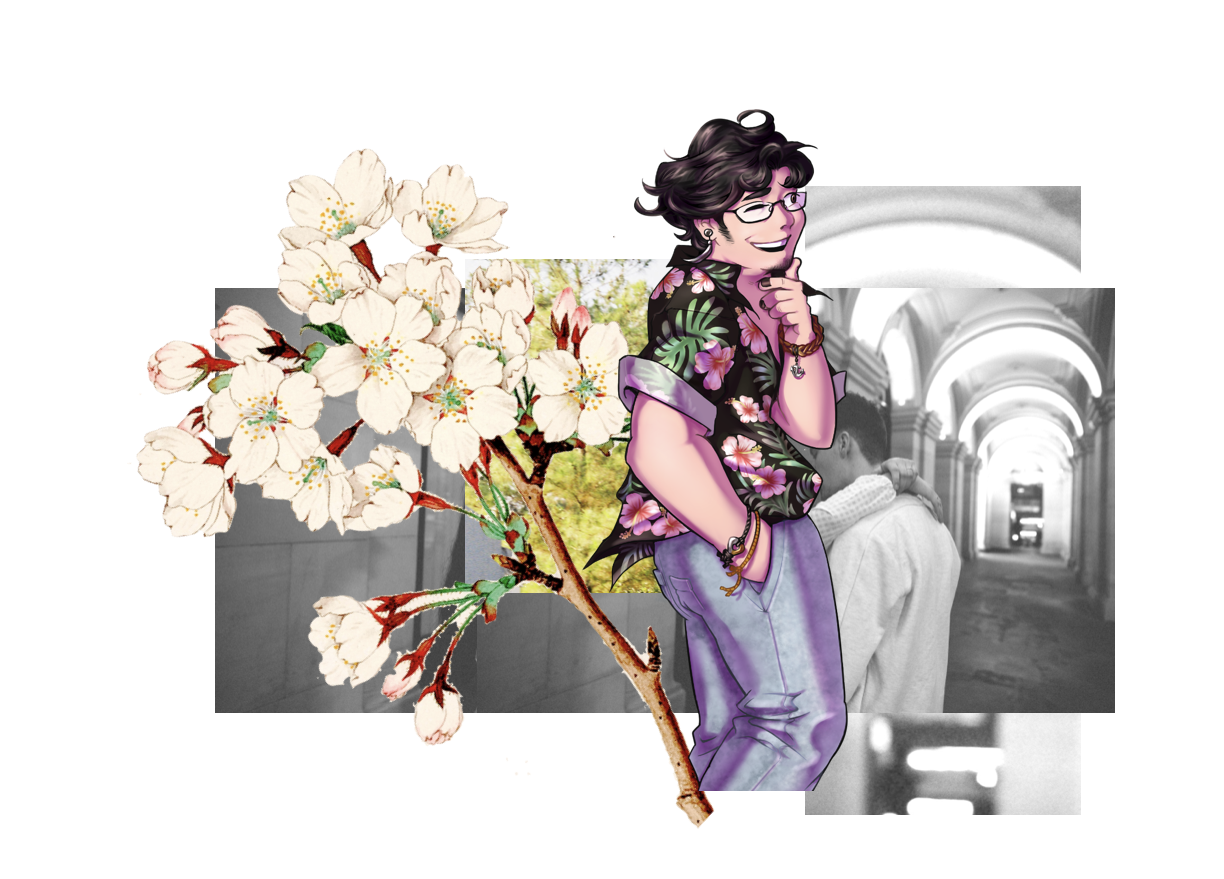 TESTIMONIALS
"This is a game about the elites – about the people they make TV shows about. But it's a game that punctures the glossy bubble that envelopes them and wipes the sheen away to reveal a mundane humanity. The stereotypes behind these playbooks are both desired and despised. In deeply sexist and consumerist society, many of these labels are #goals sought out as a part of growing up. And on the other hand, many of them are forced onto people, leaving them to wrestle with the fallout. This isn't satire – but there's an element of revealing the emperor has no clothes. But not to point and laugh – the game empathizes."
- Thomas Manuel (he/him), Game Designer (excerpt from "Find Catharsis and Get Payback With Capitalites")
"I had such a good time playing Capitalites. It gives you the tools you need to create the awkward scenarios you love in the best romcoms or modern style dramas. I was able to experience revealing my heart to someone and my crush having no idea I did so, just like in real life. Sam is very good."
- Ken Davidson (he/him), Game Designer
"Playing Capitalites was a vehicle for my hidden desire to live the life of a high-society person without really being in it. The drama. The twists in relationships. The comedy. It does not take itself too seriously while players are encouraged to discover more of their characters throughout the game. If you want a fun, TV show-drama game, I highly recommend this one!"
- Pukepeku (she/they), Twitch Streamer
"Capitalites embodies the world that everybody wants to live in. The parties are big, the dramas are orchestrated, and the people are never bored. Everyone looks beautiful and their insecurities are ugly - but in an ideal sense. You will love Capitalites the same way people love reality shows… they make us feel good."
- Jordan Tang (she/her), irl 查某 [zha bó͘h]
"Capitalites will eliminate the human capacity for judginess by making you be every kind of cringe person, one at a time."
- Dropbear Games (he/him), Game Designer
WITH SPECIAL THANKS TO...
...933 backers and their foreign currency in the Our Shores: An RPGSEA Compilation Kickstarter. Big thanks to the rest of the #RPGSEA gang but especially myKkickstarter compatriots Pam Punzalan (she/they), Sinta Posadas (they/them), Joaquin Kyle Vincent "Waks" Saavedra (he/him), and Misael "Gio" Manning (he/him). Additional thanks to Sandy Pug Games for helping us set up the campaign (because Kickstarter is not yet available in Southeast Asia).
Check out the launch party with an extensive interview with me and the rest of the Our Shores team right here!
GAME INFORMATION
Number of players: 1-6
Ideal Number of Players: 4-5
Age of players: 18+
Length: Around 1-3 hours per session
Cover Art by Toto Lin
Character & Interior Art by Jaime Lau
Book Layout by Maria Mison
This full release currently includes:

22 Character Playbooks

A Series Bible worksheet for setting up your story

A Player's Guide for quick play reference

10 premade "Series Pitches" inspired by shows like Kim's Convenience, Terrace House, Bling Empire, FRIENDS, How I Met Your Mother, Hannah Montana, and Queer Eye.
Additional story tools and prompts for plot generation and easy storytelling

a guide for creating your own Capitalites character playbooks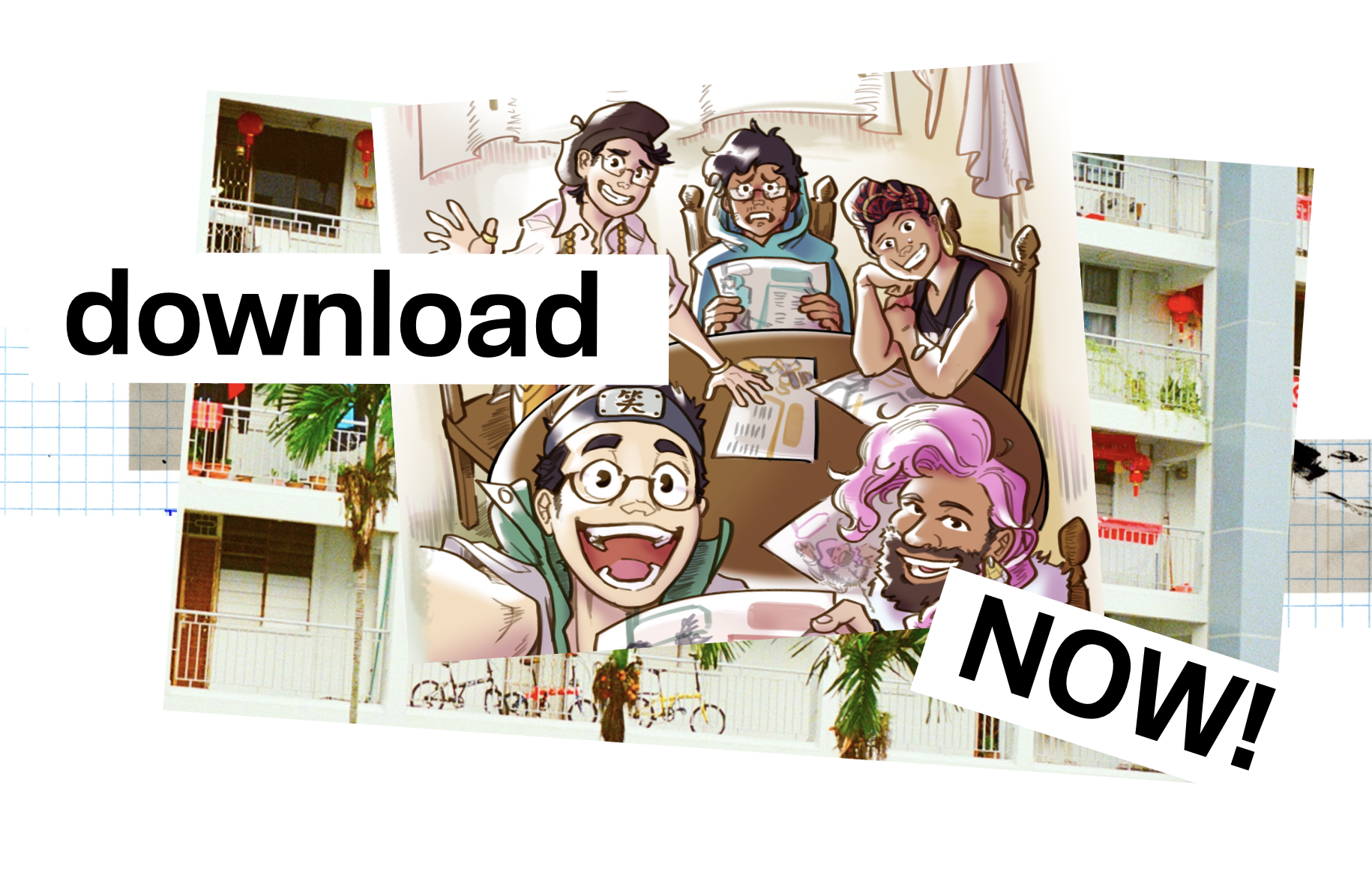 Purchase
In order to download this roleplaying game you must purchase it at or above the minimum price of $20 USD. You will get access to the following files:
Character Keeper (for online play)
External
Capitalites Player's Guide.pdf
59 kB
Capitalites Series Bible Worksheet.pdf
65 kB
Capitalites-revised-HD.pdf
855 MB
Capitalites-revised-lowres-smaller file size.pdf
168 MB
Capitalites Character Playbooks Full (revised).pdf
6 MB
Community Copy
Support this roleplaying game at or above a special price point to receive something exclusive.
Community Copies
If you are currently unable to afford Capitalites on its listed price, feel free to pull a free Community Copy!

More Community Copies will be added for every copy of Capitalites bought!
Download demo
Comments
Log in with itch.io to leave a comment.
just wrapped a five-part series and we had an amazing time! Thanks for much for this game
Here's the first session
CAPITALITES has so much appeal as a versatile urban drama game. Our experience running it has been very expansive and we've played a good 4 hours and have extended the play to Discord. Character is everything in this. The playbooks are detailed and we managed to build complex personalities. Everyone has the best and worst versions of themselves. We enjoyed getting into the meat of everyone's motivations and encouraging enmeshment for better or worse - it's the involvement that makes it fun, vulnerable, revealing.
Safety tools are excellent in this. Clear boundary setting with the series sheets was so useful. We are able to achieve a connective game experience because we felt safe with having an out if things got too involved or skewed uncomfortably.

As a roleplay focused GM, this really was a memorable facilitating experience for me. It brought out great performances from the players. Excellent game!
When reading Sam Mui's Capitalites, I could not stop thinking about archetypes, and the ways in which we construct and perform identity.